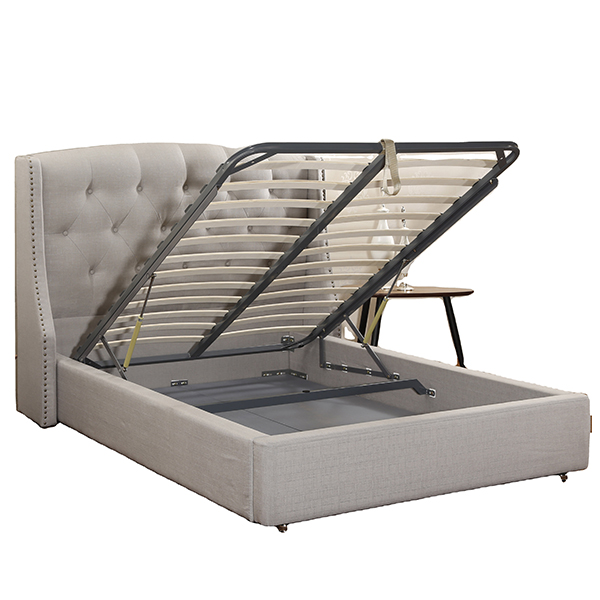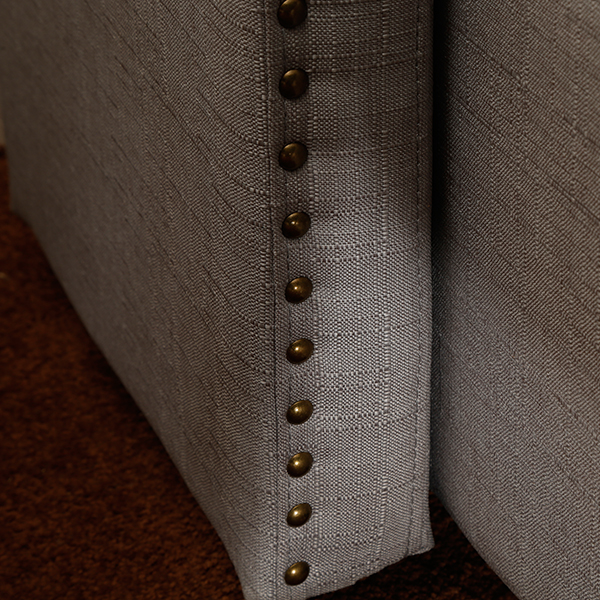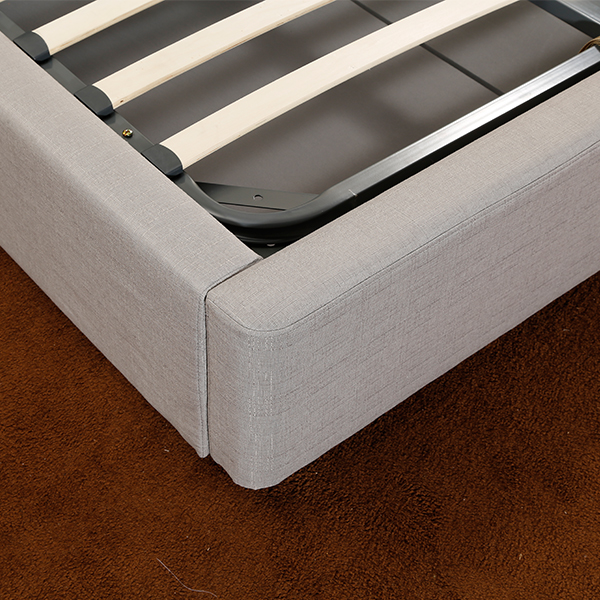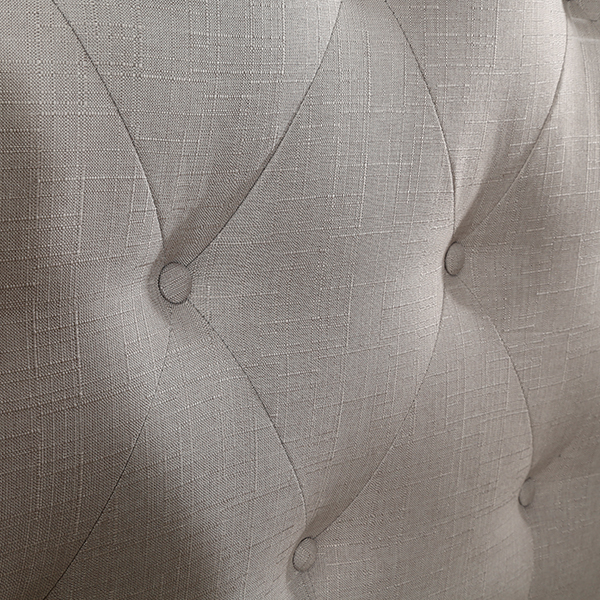 Wood Quality Bed Base
General Use: Bed Base with Headboard
Model: MB3620 (Bed base + Headboard)
Brand Name: JLH Furniture
Place of Origin: Guangdong China
Certificates: ISO 9001:2000, BS7177, CFR1633
Supply Ability: 30000 Piece/Pieces per Month
Guarantee: 10 years guarantee
Minimum Order: 20 feet container
Price Term: FOB, C&F, CIF (optional)
Payment Terms: L/C T/T
Packaging Details: Knock down in the carton box
Delivery: From the date that we get the deposit, will deliver the products within 30 days base on the type and the quantity of the mattresses you ordered.
So tons greater than simply a sturdy aid gadget for your liked memory foam mattress, the JLH Furniture Platform Bed Frame will appeal any bed room it adorns. This soundly constructed basis aspects a real stable wooden body with a rustic end and unique, herbal timber knots and patterns. And to assist you take away the field spring as soon as and for all, it's crafted with a set of wooden slats engineered to help and prolong the lifestyles of any mattress you relaxation upon it. It's additionally strengthened with metal for greater sturdiness that'll have you slumbering soundly for many nights to come. The complete mattress is cleverly shipped in one container that arrives at your doorstep with all the tools, components and directions you want to gather it in beneath an hour. Plus, it consists of more self belief for you to relaxation even less difficult in the structure of a 5-year worry-free warranty. Once you kick lower back on pinnacle of this sturdy platform, you'll probable surprise why you didn't improve to such a classy, reliable body even sooner. That is, till you float off to dreamland in no time at all.

This fashionable wood slats presents an wonderful floor basis for any platform beds bunks and daybeds. It provides guide to any mattress kind and will hold mattress continue to be in accurate structure as a result extending the existence of your mattress The 13 timber slats made out of strong timber are linked to forestall motion in the course of use and they without problems lengthen your mattress's existence span and stop sagging. These can be averted with the use of slats Using slats doubles the mattress' Life expectancy These slats is a true choice in lieu of a field spring that can also be too excessive for day beds It will supply the mattress a elevate barring including an awful lot Height These slats is robust sufficient to be used immediately on mattress body in lieu of a container spring.

JLH Furniture platform mattress is a secure and long lasting timber platform mattress with traditional timber slats that requires no plywood or container spring at all. It will add natural and rustic appeal your bed room with its herbal wooden grains and easy silhouette. Now go get an tremendous night's sleep, wake up refreshed, experience your day and repeat. This mattress body is composed of sturdy herbal timber board and pleasant timber slats, sturdy and durable.

The minimalist diagram offers a relaxed and enjoyable fashion for your relax. Each of our beds is committed to supply a higher sleep, simply to fulfill you. In our JLH mattress and bed frame factory, you can pick the mattress that fits you best. This wood bed frame body points an stylish and at ease upholstered tufted headboard diagram and a sturdy, long lasting construction. Mattress slats are made of sturdy hardwood to aid lifestyles of mattress and make sure sturdiness and support. Noise-free queen mattress body with extremely good cloth presents the most blissful to assist you and your household contributors experience sleep.

Bold and contemporary fashion comes the front and middle with the our hotel mattress platform bed. For starters, its deep espresso vegan leather-based upholstery makes a luxurious announcement proper out of the gate. Further more suitable through a distinct, squared off headboard with smooth vertical stitching, the Gerard is the ideal complement to any current or glam modern interior. But this body has greater to provide than simply its brooding top looks. It's constructed robust with a sturdy metal indoors framework and reliable timber slats that can aid your mattress besides the container spring. An underbed clearance area of almost 10 inches provides an sudden dose of performance to this design, nearly like a bonus closet the place you can tuck away more linens, clothes, footwear or luggage. And agree with it or not, this grand assertion piece is shipped to your door in manageable portions with all the equipment and directions you want to put it together. Along with it, you get the peace of idea that comes with its worry-free 5 yr assurance and its heaps of glowing client reviews. Now that's what we name pleasure in a box.

This present day mattress base create a entire new seem to be honestly by using including luxuriors. This platform mattress has a thickly padded and button stitched on the headboard and footboard. Its glossy platform plan and matte white fake leather-based upholstery make it a present day marvel. Built with sturdy timber slats for greater support. Because this splendor is a platform mattress requires no field spring, honestly add your comfortable memory foam mattress to loosen up in style. Do now not hesitate, pick out us and take it to your home!

This wonderful full dimension woodenbed body is the best platform to keep your popular full measurement mattress andeliminates the want for a container spring. The total development is made of stable pineand top rate craftsmanship so it has a lengthy provider time. With eight slats which aretightly distributed, the mattress body can without problems preserve the weights of the mattress and two adults. What's more, it has a highweight ability of 250 lbs. Our sturdy mattress body is ergonomically designed toensure the first-rate of sleep and relieving the fatigue. Its present day and concisedesign goes flawlessly with your roomsor accommodations for that reason you can put the mattress in the visitor room to be a exceptional spare bed. What'smore, our timber mattress has giant under-bed storage which can supply extra area foryour domestic and create a tidy space. The set up of our mattress is easy and onceyou have achieved the installation, simply put on the mattress and quilt ----you are prepared for a suitable night!

This Wood Platform Bed with Headboard/Footboard is a traditional mattress body that works properly with a range of redecorating patterns and makes it convenient for you to beautify and enhance your space. This platform mattress aspects a headboard, a footboard and wooden slats for support. The stunning grey end lends an stylish seem to be makes this mattress body an splendid addition to any bedroom, do now not omit the risk take it home today. The format of this mattress makes use of a smooth and classical silhouette,exuding a delicate elegance. It cleverly blends more than a few patterns of domestic decor and helps to ideal and decorate the look of any bedroom. Stable and durable: a hundred percent pine timber body construction,supplying you with the final aggregate of strong,durable fabric and mild weight,ensuring freedom to cross your fixtures conveniently.
When it comes to getting a good night's sleep, people usually pay attention to the mattress itself. But they did not realize that the bed base is equally important to the quality of sleep. The bed base is the foundation on which the mattress is located. An inappropriate base can make you squeak when you sleep at night and when you do any exercise in bed. This means that guests cannot get a good night's sleep. Whether it is a family or a hotel, a high-quality bed base is required, which is not only free of any potential noise pollution, but also strong enough to support the weight of the mattress.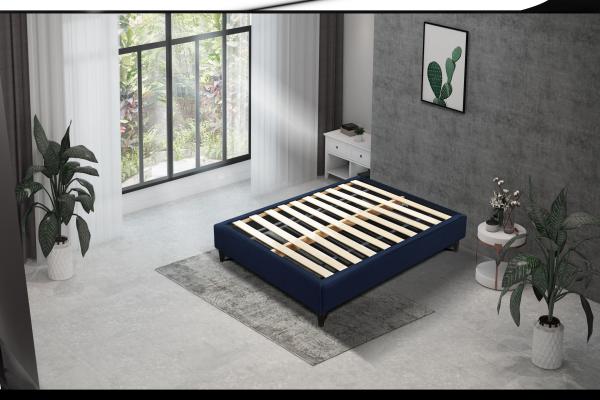 When choosing a comfortable bed base with a solid foundation in a hotel, the wooden bed base is most often chosen because of its durability, comfort and beauty.
Durability
As we all know, because the wood is thicker, the wooden bed base will show greater sturdiness. Wooden furniture is solid and durable. The lifespan of general panel furniture is 3 or 4 years, while the service life of solid wood furniture is at least 6 times that of panel furniture. JLH hotel wood bed base uses imported pine wood as the central support bar of the bed base. It has strong practicability, low maintenance cost, and provides additional support. In addition, the slatted form of the row frame is more ergonomic, providing extra comfort for the frame.
Comfort
When choosing a brand new bed, comfort is arguably the most important aspect. There is nothing more comfortable than resting in bed after a hard day of work or play. However, when any noise from your bed affects the comfort of guests and leads to poor sleep at night, guests will also feel uncomfortable with the hotel. A bed that squeaks and interferes with guests' rest can be a nightmare, and wooden bed frames are the first choice for soundproof sleep.
Appearance
The bed is the core of the hotel room. In order for a hotel room to look good, your bed frame must look good. Therefore, you want something that embodies elegance and beauty to attract the attention of anyone who sees him. The wooden bed base has a variety of shapes and designs to choose from, coupled with a comfortable shape, gives people a high end feeling.
Make a choice
The right bed frame can greatly improve the quality of your sleep. Just like proper diet and exercise, healthy sleep is equally important. Natural, environmentally friendly, and healthy, wooden furniture reveals the beauty of nature and primitiveness. It is natural and free of chemical pollution. This is really a healthy and fashionable choice, in line with the psychological needs of modern urbanites to advocating nature. In Jinlongheng, you can get high-quality and practical hotel wooden bed bases.
CONTACT US


Jinlongheng Furniture Co., Ltd.
We are always providing our customers with reliable products and considerate services.
If you would like to keep touch with us directly, please go to contact us